Wireless controls are the new standard. They offer the possibility to control a machine from a safe place. For example, the operator can choose which side of the truck to stand on in order to maintain a good overview while manipulating the load with the crane. Or one can easily operate a hoist from several floors up.
With Teleradio, OHIS has a strong partner in house. Teleradio has various robust and safe systems.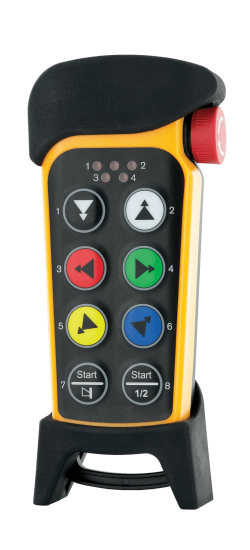 Panther PN-T19-2 as an industrial standard
Panther 8×2 PLd is the most popular transmitter among our customers. It is particularly reliable, secure and versatile. It can be operated with rechargeable battery packs as well as with 3x AAA batteries. In case of loss or malfunction, it can easily be replaced by a spare transmitter – no messing around with keys, eeproms or chips. Just a no-nonsense system.

Are you interested in wireless control? You will find the Panther 8×2 in our webshop. But please do not hesitate to contact our technical specialist, so that he can find the best solution for you. The range of joystick and push button controls is very large.

Our team can also carry out the installation on your machine.

This is also the ideal solution for the Demag DC hoist! The receiver can be connected directly to the RJ45 plug of the hoist. Plug & Play!